Today I'm linking up with Leslie at
Lambert's Lately
for her blog sale link up! Go check out all the other participating blogs and have fun shopping in your pj's!!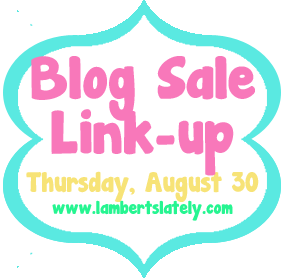 Hi! Thanks for checking out my sale.
Prices are before shipping. Shipping is $2 for first item and $4 for two or more items.
All clothes are BARELY WORN in Excellent condition unless mentioned otherwise.
Comment on this post with item number and PayPal email.
Payment expected within 24 hrs.
(sorry the pictures aren't best quality; took them with my phone)
1. Cheerleader smocked dress. Smocked Runway size 5. NWT $12
SOLD
2. Sailboats smocked dress. 4T
$18 navy and white stripes
SOLD
3. Secret Wishes smocked frogs bubble size 12m (runs big) and dress size 4T. Bubble $18 Dress $18 Set $32
SOLD GIRLS
4. Strasburg cheerleader smocked chambray dress. 5. $11
5. Candy land Surfboard monkey orange seersucker set. Girls 4T and boys 9m. True to size or a tad big. $18 for boy $18 for girl or $30 for set.
SOLD GIRLS
6. Dorothy Outfit for Halloween or Wizard of Oz birthday. Size 3/4. $20. Custom made by me & in excellent excellent condition.
7. Matilda Jane Serendipity collection top with pink ruffle leggings that are gently used. Size 4. $20 for set
SOLD
8. Matilda Jane strappy top. Size 6. $20 shipped.
9. Matching whales appliqué set. Made by me:) size 18m romper and 4/5 dress. $16 each or $28 for set.
SOLD GIRLS
10. Target pink chambray jacket. $8. Size 4T
SOLD
11. Candy Land octopus. Runs a tad small. 4T pant set and 12m bubble. $18 for each or $30 got set
SOLD GIRLS
12. Anavini red corduroy trees dress. 4T $20 shipped
SOLD
13. My Vintage Baby designer jeans. Size 4T. Worn twice. $23
14. Gap skinnies 4T. SO cute on!! $13 (PS the pant legs are the same length, haha!)
SOLD
15. Anavini fish swimsuit. 4T $14.
16. Christmas Jammies 4T $5
SOLD
17. Set of tights for Christmas and Valentines. Size 1-3years. $7 for both pairs
SOLD
That's it for girls!!! :)