Today I am linking up with
Faith's
blog for the Christmas Card Carousel she is hosting. Thanks, Faith for such a fun topic to blog about!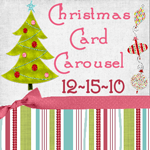 I have to say that getting Christmas cards is one of the greatest highlights of Christmas. Sending Christmas cards is just as great...minus the addressing part. And double minus the licking part. Eew!
I love getting the perfect picture and finding the best card to compliment it. Every year since Aaron and I have been married we have done picture cards. I enjoy seeing pictures of family and friends when we get a card in the mail, so I just figure the same rings true for others.
It's especially fun to add pictures of a cute little subject such as Ava.
Here is our card this year.
(click on the picture to see it better)
Anita from
A Piece of Pope
made our card this year and I think she did such a great job! I will be using her in the years to come for sure!
I save all of our cards from year to year and add them to this big 'ol bucket. Each year we go through and look at them again, including our own cards from the past. In fact, just today we were looking at our card from 2005. I am not even kidding when I tell you that Aaron and I said at the same exact time "We were so thin!" Haaa!! Married life can sure add some poundage can't it?
Can't wait to see other's cards! Merry Christmas to you and yours!